If you like your runs with a side of majestic landscapes, then Japan might be the right place to put on your sneakers and try a marathon.
Marathons in Japan have their own local flavor, no matter where you are; supporters will give you a much-needed energy boost through traditional music, drumming, and dancing, or by supplying delicious food at each station. Winter is the season of choice for most races — as you can imagine, running 42km in a Japanese summer is not anyone's idea of fun.
So, whether you are watching from the sidelines or putting your best foot forward, you might be surprised at what you can find at a marathon in Japan.
1. Tokyo Marathon
Race date:
Early March; entry from August to early September
Course:
Shinjuku Government Building to Tokyo Station
Highlights:
City sights and spectators from start to finish
Time limit:
7 hours
The Tokyo Marathon is undoubtedly the largest, most expensive, and most difficult marathon to enter in Japan. But for most, it's worth the hassle — nothing quite beats running straight through Tokyo without having to stop for cars. The capacity is 38,000 people and the entry price is around a whopping ¥ 23,300 for residents and ¥ 25,300 for overseas participants (for 2023). Its 7-hour time limit lets you complete the marathon leisurely, plus there is hardly any elevation to contend with. Along with the marathon itself, there is a 10.7km run with a 500-person capacity.
Tokyo Marathon 2023
2. Mt. Fuji Marathon
Race date:
November; entry from June to September
Course:
A circuit around Lake Kawaguchiko and Lake Saiko
Highlights:
Views of Mount Fuji
Time limit:
6 hours
Suggested Activity
Go Bar Hopping in Shibuya
Explore the underground food scene of Tokyo's coolest nightlife district, with a friendly local guide. Experience Shibuya like you live there, by sharing a table with locals and sampling Japanese beer and pub dishes. This is one of the most highly rated tours in the city!
Around 8,500 people descend on Lake Kawaguchi in autumn to see the changing of the leaves — and to run a marathon. The highlights of the route include Momoji Tunnel — a corridor of maple leaves — as well as a picture-perfect view of Mount Fuji . Luckily, you won't be expected to climb the mountain ; there's only one strenuous hill near Lake Saiko on this course. Entry prices were between ¥ 14,500 and ¥ 16,500 in 2022. A little high, but that gets you a medal shaped like Mt. Fuji when you finish.
If you're looking for more of a challenge — like a marathon isn't enough — then we recommend the Ultra-Trail Mt. Fuji in April: three days and 100 miles (160 km) of rough terrain at the foot of Mt. Fuji.
Mt. Fuji Marathon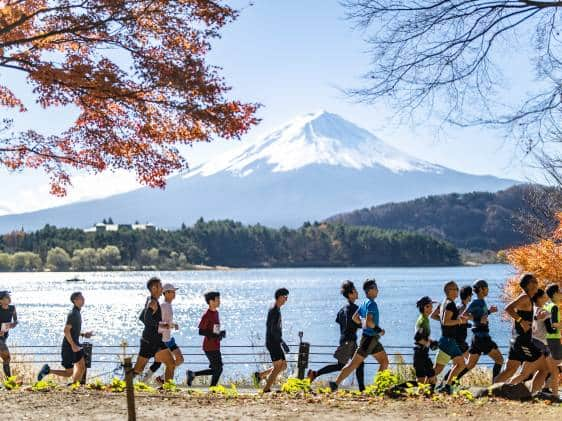 3. Nagoya Women's Marathon
Race date:
March; entry from August to October (may extend)
Course:
Start and finish at Vantelin Dome Nagoya
Highlights:
Nagoya Castle and Tiffany pendant prize
Time limit:
7 hours
Who run the world? Nagoya Women's Marathon holds the title of the largest women's marathon in the world — they had 21,915 runners in 2018. But it isn't just this accolade that sees women from all over the world flocking to Japan. Once participants finish the course, they'll get a sparkling new Tiffany & Co pendant to match their post-marathon glow — and it comes with a dashing man in a tuxedo. The downside is you'll need to pay for the bling with an entrance fee of around ¥ 19,000 (and you don't get to keep the man).
Nagoya Women's Marathon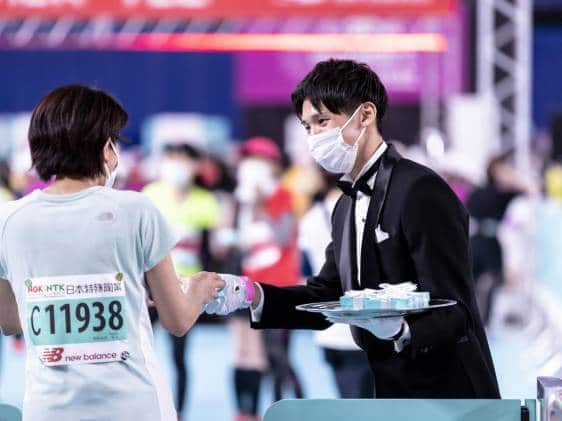 4. Osaka Marathon
Race date:
February; entry from August to September (domestic) and November to December (international)
Course:
Start at Osaka Prefectural Government Building and finish at Osaka Castle Park
Highlights:
Osaka Castle and Shitennoji Temple
Time limit:
7 hours
Osaka City is a major destination for travelers and domestic tourists alike and is all the better when filled with runners from around the world. Some choose Osaka over the Tokyo Marathon because of its accessibility — there will be plenty of locals cheering you on from the sidelines. The course is mainly flat with a tough hill around the 30km mark. Entry prices were ¥ 17,200 (domestic runners) and ¥ 19,200 (overseas runners) for 2023.
Osaka Marathon 2023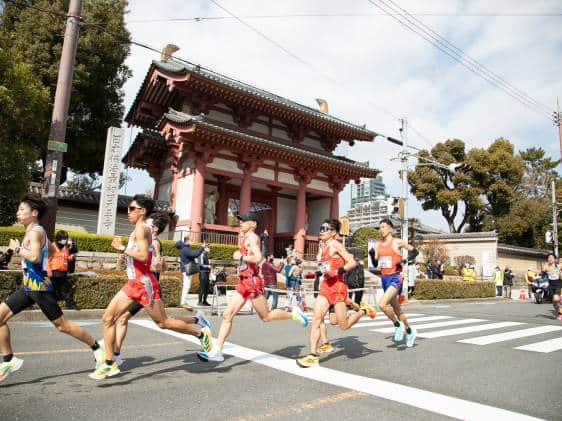 5. Kanazawa Marathon
Race date:
October; entry from April
Course:
Start at Shiinoki Cultural Complex and finish at Ishikawa Athletics Stadium
Highlights:
Traditional townscape
Time limit:
7 hours
Suggested Activity
Samurai Experience in Tokyo
One of the coolest things to do in Tokyo! Discover the samurai practice of Kenbu Tachibana Ittoryu, a special sword performance. During your class you'll dress up in a samurai outfit and train with a katana (single-edge samurai sword). A photo shoot is included, Great experience for families and children!
Local castles are a staple of marathons in Japan, and Kanazawa isn't any different. The course will take you through seven zones of a traditional Japanese town and pass gardens, temples, and townhouses. There is also local food served at the rest stations. The elevation is quite high at the beginning but becomes easier towards the end. Entry was a reasonable ¥ 15,000 in 2022.
Kanazawa Marathon 2023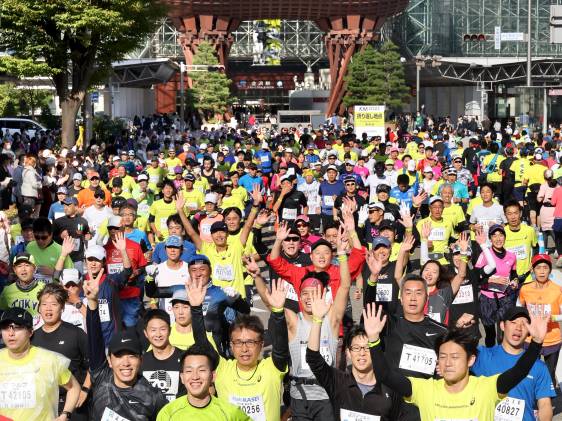 6. Nagano Marathon
Race date:
April; entry from November to December
Course:
Nagano Sports Park to Nagano Olympic Stadium
Highlights:
Mountain views and cherry blossoms
Time limit:
5 hours
Surrounded by nature, Nagano is the perfect place to see snow-capped mountains. The Nagano City Marathon also benefits from taking place in cherry blossom season . Locals will cheer you on no matter how deep in the countryside the course takes you. Be warned that this race is not for the faint-hearted as there is a tight 5-hour time limit. So, not really recommended for your first marathon. Entry price was ¥ 14,300 for the 2023 race.
Nagano Marathon 2023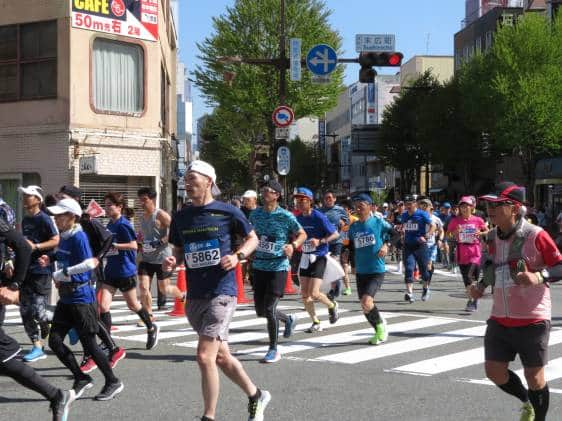 7. Ishigaki Island Marathon
Race date:
January; entry from September to October
Course:
Start and finish at Ishigakishi Chuo Athletic Park
Highlights:
Ishigaki Island
Time limit:
6.5 hours
Taking place in winter so as to avoid the Okinawan heat, Ishigaki Island Marathon stuns runners with a bright blue sea. The marathon will take you around the whole island — unless you opt for the shorter 10km or half-marathon course. It is the cheapest on this list at only ¥ 8,000 , but you do still have to get there . Experience the culture of Okinawa on the road as townsfolk throw words of encouragement in the local dialect — you'll hear a lot of " Gibariyo !", the Ishigaki version of " Ganbare !" ("Don't give up!").
8. Hokkaido (Sapporo) Marathon
Race date:
August; entry from April
Course:
Start and finish at Odori Park, Sapporo
Highlights:
Sapporo TV Tower and the Hokkaidō Shrine
Time limit:
6 hours
The Hokkaido Marathon takes place in Sapporo and is one of the only marathons in Japan to occur in the summer months. While Hokkaido is cooler than the south at this time, you should still expect temperatures to reach the mid-20s or above. The marathon usually sees upwards of 20,000 people participate, so it is by no means a small race. Despite this being a city, there will be a lot of green to see along the route as you pass through Hokkaido University's campus and Nakajima Park. The entrance fee was ¥ 16,500 in 2022.
If you want something chillier, the city also has the Sapporo Ski Marathon in February.
Honourable mentions
If you're legs haven't turned to jelly yet, try these marathons:
Tokyo is a great place to watch sports and attend international and local games. Don't miss out and keep checking our events .