Cherry blossoms tend to steal the spotlight in Japan, but there's another flower that's also bright pink and breathtaking: the plum blossom. Blooming in mid-February, plum blossoms in Tokyo signal the start of spring . Something we can all get excited about!
Read on for all you need to know on the best places to see the plum blossoms in Tokyo. Don't miss the map at the bottom, which has all the locations.
Some history, if you're curious: Plum trees were introduced into Japan from China during the Nara period (710–794 AD) and were the original hanami (flower-viewing) blossoms. The plum holds a special place in Japanese culture, symbolizing hope and vitality, and reassuring everyone that even if it's still very cold, warmer weather will come. Plum blossom festivals (called ume matsuri ) are still held all around the country to this day.
When to see plum blossoms in Tokyo
Plum trees start blooming when it's still good and chilly; you can expect to see them from late January or early February in most years, well before even the earliest cherry blossoms have started to bloom.
Although most plum blossom festivals start in early February, the best time to visit the places we've listed here is usually mid to late February , as most of the flowers will hardly be blooming at the start of the month.
Where to see plum blossoms in Tokyo
Although there's no shortage of plum trees in the metropolis, it's when they are en masse that their beauty truly stands out. Here are seven good places to see gorgeous plum blossoms in Tokyo (plus a bonus day trip).
Suggested Activity
Cheapest Way to Transfer Your Money Out of Japan
One of the cheapest and easiest ways to send money from Japan is TransferWise, tried and tested by our Cheapo team. It's fast and reliable. ...
1. Hanegi Park
Feb. 11–Mar. 5:
Setagaya Plum Blossom Festival 2023
Free
The park's location, Umegaoka (which means "Plum Blossom Hill") in Setagaya Ward, should already tip you off about what to expect here! Hanegi Park has about 650 plum trees, making it a fitting location for the Setagaya Plum Blossom Festival . On weekends during the festival, vendors sell plum-themed food such as madeleines and jellies, and there are also some performances. You can still swing by the park itself to see the plum trees on weekdays, too.
Hanegi Park
4-38-52 Daita, Setagaya-ku, Tokyo 155-0033, Japan
2. Koishikawa Kōrakuen
Plum blossom dates for 2023:
from late Jan. to early Mar.
Check here
for the flowering situation.
¥
300
Centrally located near Tokyo Dome , Koishikawa Kōrakuen is beautiful all year round. While it has dates marked as plum blossom season, it's not so much a plum blossom festival in that there are not usually booths or special performances; it's all about enjoying the fragrant blossoms in a historic, manicured setting. The park only has a small number of plum trees, but you can enjoy the rest of the scenery, too. They also offer free English-language tours every Saturday at 10 a.m.
Koishikawa Korakuen
1-6-6 Koraku, Bunkyo-ku, Tokyo 112-0004
Monday - Sunday 9:00am–5:00pm | Last admission: 4:30pm
3. Yushima Tenjin
Yushima Tenjin Plum Blossom Festival 2023
: Feb. 8–Mar. 8
Free
This shrine is devoted to Sugawara no Michizane, a scholar who became deified as a tenjin (god of learning). Since the University of Tokyo is a short walk away, it's unsurprising that many prospective students come here to pray for luck in their entrance exams.
Although the shrine is small, it's known for its beautiful plum blossoms. Annually, it commemorates the plum blossoms with a month-long festival filled with performances, a mikoshi (portable shrine) procession, and food stalls . The plum tree-lined staircase going down past the shrine and out into the streets is a wonderful sight.
Suggested Activity
Tokyo NRT (Narita) and HND (Haneda) Airport Transfer Low Cost Taxi
This shared taxi service is a cheap option for a door-to-door transfer from the airport. If you're new to Japan, then use this friendly minibus service for a cost-effective and stress-free arrival to the world's most populated city. A standard taxi from Narita airport is usually about $200USD, over four times the price of this shared taxi service! Moreover the ...
Yushima Tenjin Shrine
3 Chome-30-1 Yushima, Bunkyo-ku, Tokyo
Monday - Sunday 6:00am–8:00pm
4. Ushi-Tenjin Kitano Shrine
Koubai Red Plum Blossom Festival 2023
: Feb. 1–25; with a special event on Feb. 19
Free
This shrine is known for its striking red plum blossoms (called kōbai ) and also its pink weeping plum blossoms ( shidare ume ). For the duration of the festival, you can try amazake (a fermented rice drink, which is actually non-alcoholic) and ginger tea on Saturdays. On Sunday, they offer plum sweets, dried plums, and Kitano no Fukukōbai , a kind of umeshu (plum wine) that's been fermented for 5–10 years.
On February 19, visitors will be treated to a ceremony, taiko performance, and 200 visitors can take home a small plum twig.
If you're into collecting goshuin (temple/shrine stamps/seals), Ushi-Tenjin Kitano will have commemorative ume matsuri stamps.
Ushi-Tenjin Kitano Shrine
1 Chome-5-2 Kasuga, Bunkyo City, Tokyo 112-0003, Japan
Monday - Sunday 6:00am–5:00pm
5. Shiba Park
Plum blossom dates for 2023: from late Jan. to early Mar. Check
the park's Twitter
for the current flowering situation.
Free
Here's where you can enjoy the plum blossoms with Tokyo Tower in the background. With only 70 trees, Shiba Park's so-called plum forest may be modest compared to the other places listed here, but it's nonetheless spectacular. The trees, which used to be called the "Silver World" in the Edo period , were transported here from present-day Shinjuku in the Meiji Era.
Shiba Park
4 Chome-10-17 Shibakoen, Minato City, Tokyo 105-0011, Japan
6. Kameido Tenjin
Plum blossom dates for 2023:
Early Feb. to early Mar.
Free
Another place with "Tenjin" in its name? Here's a hint: Tenjin shrines tend to be associated with plum blossoms. Kameido Tenjin is known as the shitamachi (downtown) Tenjin shrine, and it has over 300 plum trees. Amidst those is a famous tree — "Goken no Ume" — which has both red and white blossoms. The shrine's arched bridge is also a sight to behold.
Kameido Tenjin Shrine
3 Chome-6-1 Kameido, Koto City, Tokyo 136-0071, Japan
Monday - Sunday 6:00am–5:00pm
7. Ikegami Plum Garden
Plum blossom dates for 2023:
Early Feb. to early Mar.
¥
100
Ikegami Baien ("baien" means "plum garden") was a private garden left to Ota Ward after the owner's death. The garden is home to over 370 plum trees, made up of 30 unique varieties. Upon your approach to the garden's entrance, the first thing you see is the slope covered with beautiful plum trees that welcome you in with their vibrant colors. You will also notice two small houses that each have a traditional tearoom occasionally used to entertain visitors.
Ikegami Plum Garden
2 Chome-2-13 Ikegami, Ota-ku, Tokyo 146-0082, Japan
Tuesday - Sunday 9:00am–4:30pm | Closed: Monday
And if you want to go somewhere slightly past Tokyo for a day trip …
8. Odawara Plum Blossom Festival
Odawara Plum Blossom Festival 2023:
Feb. 4–26
Free
Odawara is in Kanagawa Prefecture , but is only an hour and a half away by train from Tokyo. The plum blossom festival mainly takes place at and around Sōga Bessho Bairin, a grove of about 35,000(!) plum trees that offers a clear view of Mt. Fuji. There are different kinds of plum blossoms here — red, white, pink, weeping; you name it!
Make sure to check out the festivities as well — there's a yabusame (horseback archery) demonstration, lion dances, a calligraphy performance, concerts, and more. Before going, check the event schedule (in Japanese).
Odawara Flower Garden
3798-5 Kuno, Odawara, Kanagawa 250-0055, Japan
Tuesday - Sunday 9:00am–5:00pm | Closed: Monday
Bonus blooms: Atami Plum Garden
Atami Plum Festival
: Jan. 7–Mar. 5
¥
300
If you happen to be near Atami — or fancy making a day trip out of it — the Atami Plum Garden is worth a visit. It also hosts a Plum Blossom Festival throughout January and February. Atami is known to have some of the earliest plum tree blossoms around Tokyo, and the Atami Plum Garden has 60 different varieties of plum trees.
Atami Plum Garden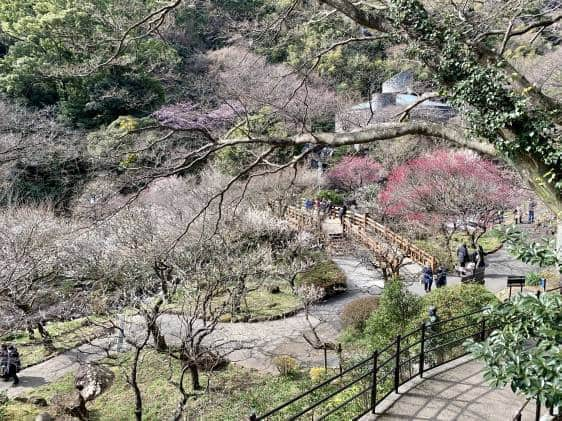 8-11 Baiencho, Atami, Shizuoka 413-0032
Monday - Sunday 8:30am–4:00pm
Plum blossoms vs. cherry blossoms: How to tell the difference
Plum blossoms' reddish, pink, or white flowers usually remain in bloom until early March. There's an occasional overlap between late-blooming plum blossoms and early-blooming cherry blossoms , which can lead to some confusion. If they look similar to you, just remember that cherry blossoms have split-ended petals, whereas plum blossoms don't. Also, several cherry blossoms bloom from a single bud and are attached to the branch by a long stem, while there's only one plum blossom per bud. And plum blossoms often have a lovely fragrance, while cherry blossoms don't smell like much.
Still fixated on seeing cherry blossoms? Here is our complete guide to Tokyo's best hanami spots .
While we do our best to ensure it's correct, information is subject to change. Dates should be treated as approximate, as nature does her own thing. This post is updated annually. Last updated in January 2023.